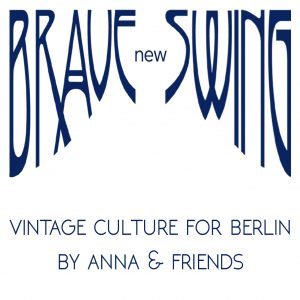 Brave new Swing is not a dance studio.
'Cause social dancing is a cultural pleasure and not a sport – and it therefore belongs in bars and ballrooms rather than in gyms.
You won't learn to dance just in class; but you will for sure develop class on the dance floor – while having fun! And a drink…
That's why Brave new Swing, or Anna (which is the same) teaches where the party is: She has started several parties (amongst others Bellmer Balboa & Klunkerswing) and now primarily hosts 'Die Blaue Stunde' which happens each Tuesday. In pure devotion to the music she either drags her records to the party and djs with her favorite ping pong partner Golby Surround or she hits the washboard with her 'Abrissbirnen' (wrecking balls).
But more important is that she somehow became the New Orleans Embassy of Berlin (besides other countries and cities…) – which means she is giving a stage to the best Jazz musicians that travel through Berlin: Meschiya Lake & The Little Big Horns, The California Feetwarmers, Horse Eyed Men, The Magnetic Ear, Jumbo Shrimp or Jimbino Vegan & his Jazz Cannibals (just to name a few…) – not to forget interesting new and old Berlin based bands. Also the DJs are carefully selected and you will often hear not only the warm sound of vinyl but also sizzling shellac spinning while those happy Tuesdays…
And no worries: it's a party in its truest sense – you don't need to know how to partner dance to enjoy yourself! (But believe it: dancing is a lot of fun. And you can learn it each Tuesday just before the party starts…)
Anna teaches her regular classes with two of Berlin's best follows (Cathrine & Johanna), but she also invites established dancers from all around the world to bring her favorite dances to her home scene: e.g. Peter Loggins for Dixieland One Step and Cajun Two Step,  Josh Gomez for LA Lindy and Transitions to Bal or Nejc Zupan (with whom she teaches internationally) for Balboa and Blues…
The more styles you know the richer your dancing gets – and the more music you will be able to dance to.
Übrigens:
Anna speaks proper german. And english. And so are the classes.
This website is in english to make sure that everybody understands…
BUT WHY DO WE DO ALL THAT…? Here's the answer: