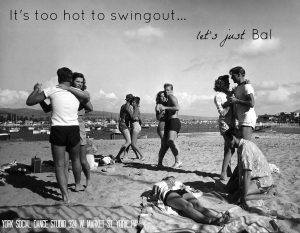 There are so many beautiful ways of moving slow left to show that we – or you – decided to do it again! So this is going to be a follow-up for those who took part in the last Slow Bal Special – and build up on it. (If for some reason you couldn't take part please talk to me and we will see what we can do!)
In this one we will focus on leaving close position for turns and other short breakaways to contrast your body to body dancing – and for other things you can do in semi-open (another fine way of connecting when the music is slow…).
About Slow Balboa:
Do you know the feeling when the music gets irresistibly slow and you still wanna dance Balboa…? When you just wanna stay in close position but don't change your posture and all the other key ingredients of your dancing?
That is: no problem. You can use all your Pure Balbo skills to slow tempo just as well. You'll see – Balboa is beautiful in ANY tempo.
We will take some steps we already know, adapt them, find new combinations of 'moves' that create the different yet similar feeling we all love. Heavy connection, counterbody movement, a lot of lilt, slow, small and down to the earth triples, drags and crab walks – and all that with a change of pulse. All lead and followed. No fixed patterns.
Again we wil have everybody lead and follow in that class to enable a true understanding of the dance.
You shall not be afraid of dancing the other role – it's a slow dance in mostly close position and it will be fairly easy to switch. (Which makes it a very good start to experience that other role…)
And be aware: You don't need to wait for someone being able to lead when you wanna bal slowly any time after the workshop…
Registration:
https://bravenewswing.de/registration/
Facts:
Thursday 2.8. / 19:00 – 22:00
Costs: 35€ for everyone
Teachers: Anna & Ines
Location: Die Blaue Stunde (Mehringdamm 61, first backyard, up the stairs)
Registration is here.
Facebook Event