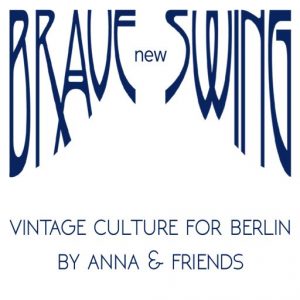 Vintage dances without gender roles:
At Brave new Swing everybody – no matter the gender – learns to lead and follow. That way everyone can join the fun: Alone, with a partner or with a whole group of friends. And that pays off at the parties: you will be able to dance with everybody – and whenever you feel like it!
Brave new Swing is not a dance studio.
'Cause social dancing is a cultural pleasure and not a sport – and it therefore belongs in bars and ballrooms rather than in gyms. You won't learn to dance just in class, but you will for sure develop class on the dance floor – whilst having fun! And a drink…
That's why Brave new Swing teaches where the party is:
Anna
hast started several dance nights at different venues (Crack Bellmer, Bassy, Spiegelsaal, Klunkerkranich,…) and 'Die Blaue Stunde' at Freudenzimmer (now Jam Cats Session). So you can party and dance to live music right after class every Tuesday.
At Brave new Swing you can learn all kinds of swing dances such as Balboa & Lindy – and sometimes also funny other old school ways to hop, slide and pogo such as the Peabody, One & Two Step, Collegiate Shag, Jazz Waltz or Foxtrot – all with a swinging twist…
But with whatever you might start with: the best thing is that you can join all of Berlins many many dance parties – for example the one right after class. 'Cause you don't learn to dance for being in class. You learn it to party, meet new friends, drink, laugh and listen to hot and happy live music – and of course: to dance!
But be aware: Your new hobby will eat up your nights!
Übrigens:
Anna speaks proper german. And english. And so are the classes. This website is in english to make sure everybody understands…
More info?