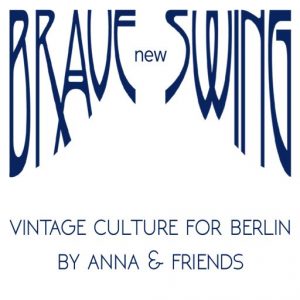 Brave new Swing is not a dance studio.
'Cause social dancing is a cultural pleasure and not a sport – and it therefore belongs in bars and ballrooms rather than in gyms.
You won't learn to dance just in class, but you will for sure develop class on the dance floor – while having fun! And a drink…
That's why Brave new Swing, or Anna (which is the same) teaches where the party is: She has started several parties (amongst others Bellmer Balboa) and now primarily hosts 'Die Blaue Stunde' which happens each Tuesday. If she doesn't DJ her favorite 60s records she hits the washboard with her 'Abrissbirnen' (wrecking balls). But she also gives a stage to much more interesting international musicians traveling through Berlin – check the complete line-up here. Also the DJs are carefully selected and you will often hear not only the warm sound of vinyl but also sizzling shellac spinning while those happy Tuesdays…
And no worries: it's a party in its truest sense – you don't need to know how to partner dance to enjoy yourself! (But believe it: dancing is a lot of fun. And you can learn it each Tuesday just before the party starts…)
Anna teaches her regular classes with Berlin's best follows. In those classes everybody – no matter the gender – learns to lead AND follow from the first lesson on…
Anna has also invited dancers from all around the world to teach her favorite dances to her home scene together: e.g. Peter Loggins for Dixieland One Step and Cajun Two Step,  Josh Gomez for LA Lindy and Transitions to Bal or Nejc Zupan and Eran Tobi (her international teaching partners) for Balboa, Lindy and Blues. But she throws elements of all those dances in her regular classes as well:  The more styles you know the richer your dancing gets – and the more music you will be able to dance to.
Anna just started to also teach abroad as a leader to demonstrate how much fun one could have in a world, where everybody is allowed to lead and follow – and suggest ideas whilst dancing no matter the role they are currently in… 
About Balboa: 
Balboa is a full body contact swing dance that is danced to rather fast music. It evolved in the 20s in California and was THE thing to do through the 30s up to the 40s – and nowadays all over the planet. It's the coolest and smoothest dance in the world: very delicate and with slightly crazy footwork. Balboa is super suitable for moving sophisticated or even dead drunk to various types of Jazz and other 4/4 beat music. (Check clips for a first impression…)
And the best thing is that you can learn its basics quite fast – and join Berlins happiest dance parties such as the Tuesdays at Die Blaue Stunde. 'Cause you don't learn to dance for being in classes. You learn it to party, meet new friends, drink, laugh and listen to hot and happy live music – and of course: to dance!
But be aware: Your new hobby will eat up your nights!
Übrigens:
Anna speaks proper german. And english. And so are the classes.
This website is in english to make sure that everybody understands…
BUT WHY DO WE DO ALL THAT…? Here's the answer: